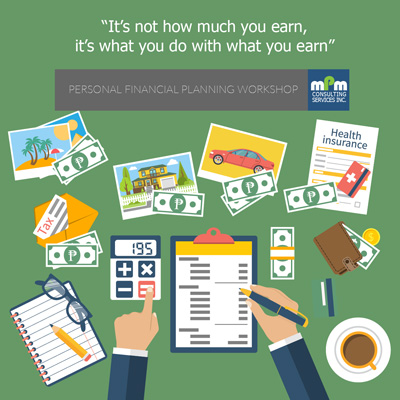 Next Available Schedules
March 10, 2018 9:30 AM to 5:30 PM
Venue: B -Hotel Quezon City, 14 Scout Rallos, Laging Handa, Quezon City, Philippines, 1103 Metro Manila, Philippines View Map
Speaker: Maria Lourdes Macabasco-Yanuaria, CPA, CPP, RFP – Registered Financial Planner and Founder of MPM Consulting Services Inc.
It's not how much you earn, it's what you do with what you earn
Most of us work really hard and yet only few achieve financial security, stability and freedom. Is it because these few financially well off are smarter than the majority, or is it more of behavior and discipline?
Personal Financial Planning Workshop Objective
This personal financial planning workshop aims to educate and help individuals, in any walk of life, such as student, employee, business owner, professionals, OFW, housewife, etc., on how they can properly manage and grow their hard-earned income.
Who Should Attend
Personal Financial Planning Workshop is open and recommended to anyone like:
Student or newly grads who wants to have a good start in managing their income and finances;
Young professionals, employees or business owners who has a number of experience in their chosen field but still has not started in managing their income and finances;
People struggling in managing their income and finances and is looking for answers on how to fix it; and
People who are ready to change and improve their finances but don't know where or how to start.
Personal Financial Planning Workshop Outline
Introduction
Financial Goal-setting
Identifying Current Financial Status
Creating a Financial Plan and/or Budget
Review and Assessment of Performance
Types of Investment
After the Personal Financial Planning Workshop
You'll learn the following:
Life stages
Money habits
Creating personal balance sheet, income statement and cash flow
Creating financial plan and budget
Track and assess your actual performance versus the plan or budget
Different types of investment available depending on your risk profile
Registration Fee
P2,500.00 + 12% VAT for 1 day, inclusive of training materials, certificate of attendance, lunch and am/pm snacks but please bring your own calculator.
Register early and avail our 5% early registration discount. We accept credit card payments via paypal, or check and cash via bank deposit or we can pick it up from your office.
How to Register?
Seats are limited and made available on a first pay first serve basis. You may use the form below to register.
Alternatively, you may also send your name, email, mobile/tel no., company to training@mpm.ph or via SMS to 09176243720.
For further inquiries please feel free to contact us.