Payroll processing in the Philippines takes a lot of time because we have many labor rules to consider and many government forms to submit. Payroll and labor code compliance is one of the main cause of headaches to business owners and one of the main barrier to good employee and employer relationships.
Our company provides complete payroll solution from the computation of employee salaries and bonuses to the preparation of the required compensation based reports that need to be submitted to SSS, PHIC, HDMF and BIR.

Request for Proposal
Our Payroll Outsourcing Services Includes
Computation of basic salaries
Computation of overtime pays, night differentials, rest day and holiday pays
Computation of employee leaves
Keep track of available leave balances
Computation of WTAX, Annual Tax, Final Tax, Fringe Benefit Tax and other taxes applicable to the employees
Computation of SSS, PHIC, HDMF and Union contributions
Computation of loans and other employee deductions
Computation of 13th month pay and other bonuses and benefits
Preparation of Monthly, Quarterly and Annual government forms and other reports such as

SSS Form R5
SSS R3 with data file
SSS ML1
SSS ML2 with data file
PHIC RF1
HDMF MCRF
HDMF STLRF
BIR Form 1601-C
BIR Form 2316
BIR Form 1604-CF with Alphalist and data file
How Our Payroll Outsourcing Services Works?
Here is a basic illustration showing how our payroll services works for each payroll period.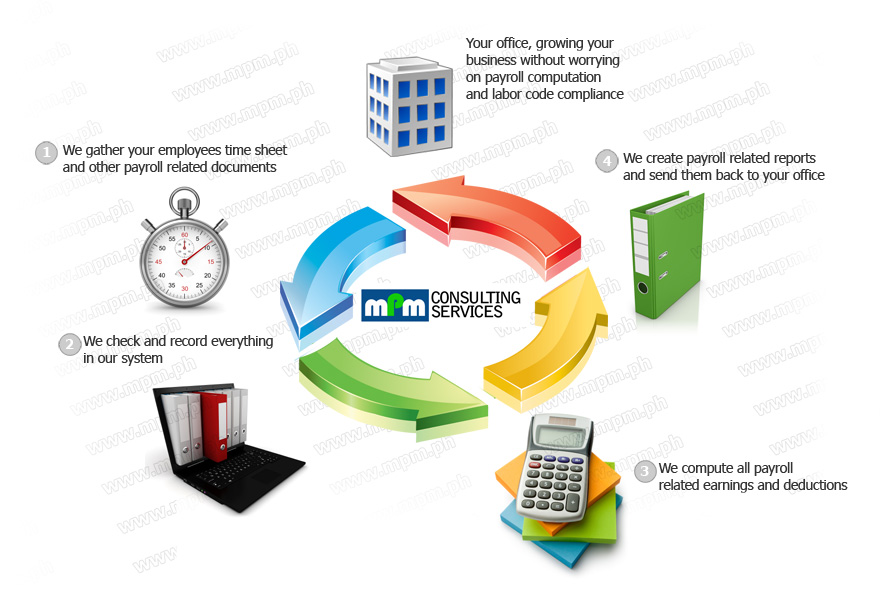 We will gather all your employees time sheet and other payroll related documents like the following

Records of newly hired employees
Records of separated employees that are no longer included in the payroll
New loans
Salary adjustments

We will review and check all the documents and record them in our system.
We will compute all earnings and deductions such as

Tardy, undertime and absences
Leave pays
Loan deductions
Taxes
SSS, PHIC, HDMF employee and employer contributions
Union dues
Adjustments

We will review the computed payroll and create reports to send in your office such as

Payslips
Payroll registers
Bank advice
SSS, PHIC, HDMF monthly, quarterly reports (whichever is applicable)
Monthly, quartery BIR reports (whichever is applicable)
Testimonials from Clients
Below are some of the testimonials from our clients.
- Clutch Event Management

Request for Proposal